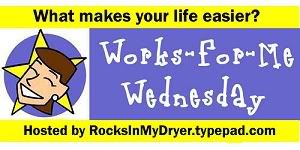 Today I would like to share a product with you that has been used around my house for quite some time. Believe it or not, it was my husband who first told me about it. It's called Krud Kutter. My husband is a painter and also does jobs such as blowing ceilings, some carpentry work, etc. He uses this product when he has to "kut the krud" from something and it works VERY well. When we moved into our new home, I used it to get the grease off the stove hood. I recently discovered from some friends (thank you,
Cheri
) that you can also use it to remove spots from carpet. I haven't had to use it for that yet but I am thankful we keep it on hand! You can find it at Lowes and places like that.
For more WFMW tips, visit
Shannon
!